EFA RBPMW SIP Fellowship Show I
Guy Ben-Ari, Jared Buckhiester, and Aur
élien Couput
June 11 - July 5, 2015
Opening Reception: Thurs., June 11th, 6 - 8 pm
We are delighted to welcome back our 2014 Studio Immersion Project (SIP) Fellows for a two-part summer exhibition series. Show I will feature recent work by Guy Ben-Ari, Jared Buckhiester, and Aurélien Couput.
The SIP Fellowship is a three-month intensive program designed to immerse artists in the printmaking medium. For many fellowship artists this opportunity is their first time creating prints. However, as artists with dedicated studio practices they bring their interests and experience in other disciplines, including painting, drawing, and sculpture, to the tradition of print, very often in surprising and unexpected ways.
One year after their fellowship at Robert Blackburn Printmaking Workshop (RBPMW) our fellows reflect on the ways in which printmaking has continued to play a role in their broader artistic practices. In his recent work, Ben-Ari translates the political imagery of his paintings into monotypes. This process offers an immediacy and variation in mark making not possible in painting. These elements unique to printmaking imbue his figures and interior spaces with a ghostly and foreboding presence. Similarly, Buckheister has continued making prints. His fragmented images masterfully come together through a combination of chine collé, etching, and watercolor monotype techniques to form a series of symbolic vignettes that speak to issues of gender and otherness. Couput, who paints appropriated images from the media and contemporary culture, challenges "the notion of truth and the American Dream". In recent work, he employs screenprinting as a means of slyly disrupting both iconic images and his painted surfaces.
PHOTOS FROM OPENING NIGHT!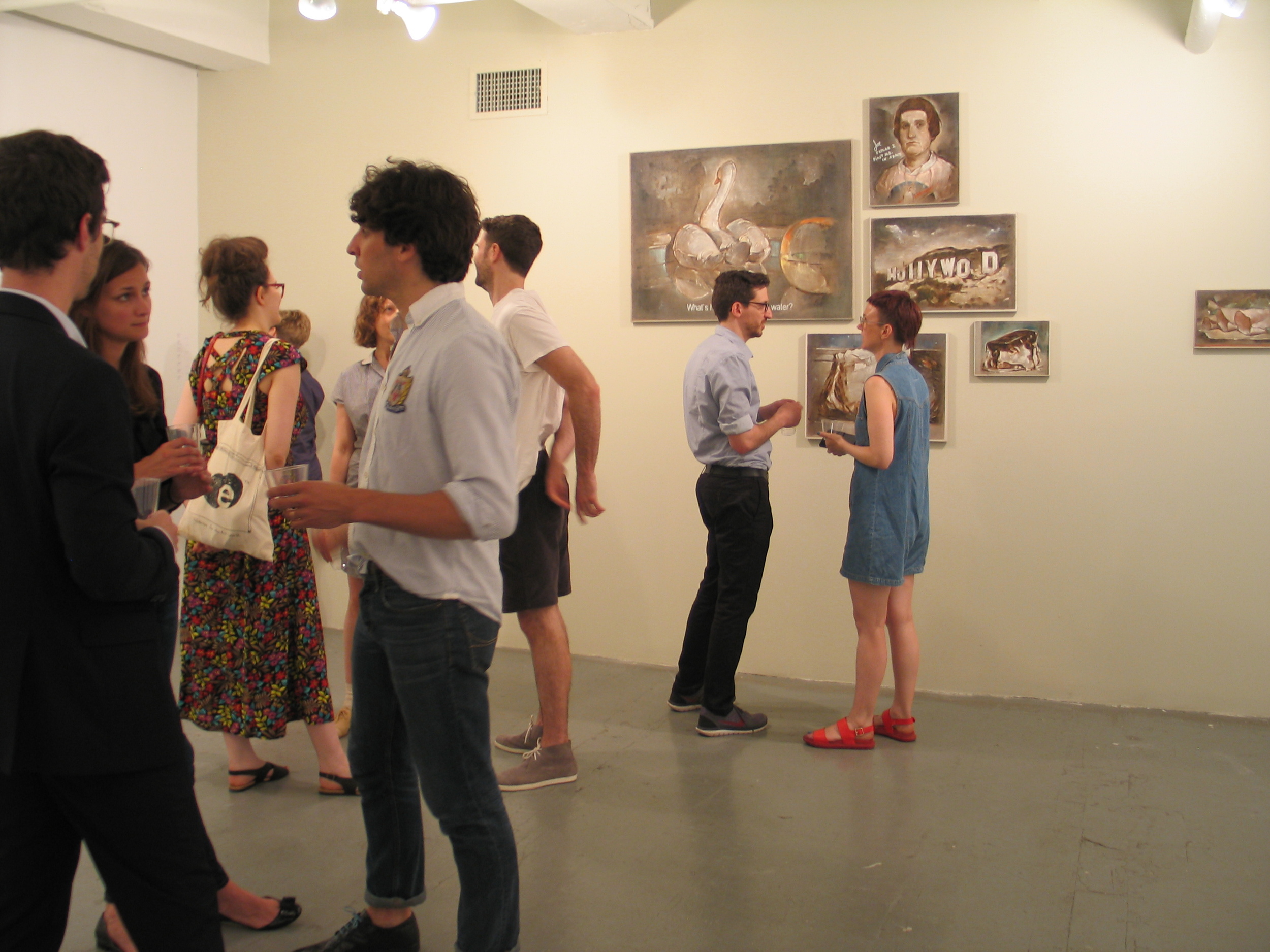 ARTIST BIOS:
Guy Ben-Ari (born 1984 in Tel-Aviv, Israel) lives and works in New York City. He is currently an Artist in Residence at the Keyholder Residency Program at the Lower East Side Printshop in New York. He is a recent Artist-in-Residence at the Lower Manhattan Cultural Council Workspace Program, New York. Ben-Ari received his MFA from Columbia University's School of the Arts in 2011 and his BFA with honors from Bezalel Academy of Art and Design in Jerusalem in 2009, where he received the Presser Award for Excellence in Painting. In 2008, Ben-Ari was selected for the Exchange Program for Merit Students to study Painting at the Slade School of Fine Art, UCL, London. Ben-Ari's recent solo exhibitions were held at Scaramouche, NY, Vox Populi in Philadelphia, and Hamidrasha Gallery in Tel-Aviv. His work has been featured in exhibitions in New York City at 6–8 Months Project Space, Thierry Goldberg, Lu Magnus, NADA art fair with Artis, Fisher Landau Center for Art, and SculptureCenter.
Jared Buckhiester lives and works in New York. In 2012 he received an MFA in Sculpture from Bard College, in 1999 he received his BFA with a focus in Photography from Pratt Institute. Buckheister has had solo exhibitions of drawings and sculptures at Envoy Enterprises; Feature Inc.; Gallerie Du Jour, Paris; Thomas Rehbein, Cologne; and Dear Future Me, Brussels. He is the recipient of grants from The Dedalus Foundation for the Arts and the Albert K. Murray Foundation.
Aurélien Couput was born and raised in France, where he graduated from the École Nationale Supérieure des Beaux-Arts in Paris and the Haute École d'Art et de Design in Geneva. He completed an MFA in Visual Arts at Columbia University School of the Arts in 2013. Aurélien has received international recognition for his work and was the recipient of the Prix de la Foire International de Dessin (FID) in Paris, the Raymond Weil International Photography Prize, and the 8th LVMH Young Artists' Award. He was featured in New American Paintings MFA Annual #99. His work has been exhibited in New York, Paris, Germany, Switzerland, Spain, and China.